Boiler Room Supplies
* Boiler replacement parts * Gaskets * Boiler thermometers * Boiler maintenance products * Boiler accessories *Boiler sight glasses (water gauges) * OEM replacement parts * Boiler pressure gauges * Boiler spare parts
AGIS, LLC is a custom manufacturer and stocking distributor of a wide range of boiler room supplies, parts and accessories for industry.
Here is a sampling of our product lines:
Knitted Dense Rope:
Cut lengths 1 ½" Diameter, sizes 36" to 96".

Glass Tadpole Tape:
Cut lengths ½" Bulb x 2" OA, sizes 38" to 98".

Handhole and Manhole Gaskets:
2 ¾ x 3 ½ x ½ x ¼ OB to 3 x 4 x ½ x ¼ E Rubber.
2 ¾ x 3 ½ x ½ x ¼ OB to 3 x 4 x ½ x ¼ E Wire Inserted Fiberglass.
2 ¾ x 3 ½ x 3/8 x .175 OB to 3 ½ x 4 ½ x 3/8 x .175 E Spiral Wound.

Flexhose:
¼" x 30" to 3/8" x 30" Sizes.
½" x 12" x 90 Elbow and ¾" x 12" x 90 Elbow Sizes.

Refractory Tile:
60" to 96" Throat tile, liner tile, sight block, baffle tile.

Burner Housings:
78" to 96" sizes.
TOPOG-E Boiler Gaskets:
*All sizes and shapes available.
Most popular are oval handhole, obround handhole & manhole, and oval manhole.

McDonnell Miller Gaskets Rubberized Fiberglass Tadpole, Flue brushes & Accessories:

For over 70 years, McDonnell and Miller has produced high quality boiler controls, flow switches, and numerous innovative products for heating, air conditioning, and process applications industry. McDonnell and Miller products for residential, commercial, and industrial industries have a reputation for quality, reliability, and performance.


Gaskets:
A variety of shapes and sizes available.

Rubberized wire-inserted fiberglass tadpole tape:
O/A widths from 1" to 2 ½ " with a bulb diameter from 3/8" to 1".
*Dry stitched and other cover and core materials available.

Flue brushes - fine wire double spiral:
1 ¼ " to 4" tube sizes.

Flexible non-conducting fiberglass rods:
4' to 6' sizes
Reducer, coupling, and pull ring loop available.
● Cleaver-Brooks Boiler Gaskets, parts, miscellaneous items
Cleaver-Brooks is one of the most respected brand names in the boiler industry. They are a leading manufacturer of industrial boilers and boiler room systems.
Products include: gaskets, tadpole tape, tadpole head gaskets, knitted fiberglass rope, washers, steel cap screws & washers, rivets & fasteners, brass nuts, cupped head pins, peep sight caps, nozzle springs, O- rings, V-belts, gage glasses & washers, red rubber tubing, air cleaner, flex hose, refractory tile diffusers, & burner housings.
● Other products available include:
Compressed non-asbestos gaskets
Fiberglass tadpole head gaskets
Special woven gaskets
Rivets and fasteners
Cupped head pins
Brass and copper washers
Brass nuts
Steel cap screws and washers
Glass peep sight caps
Gauge glass washers
Copper-jacketed gaskets
Red rubber tubing
Nozzle springs
V-belts
Air cleaner
Bronze bushing
"O" rings
Red line gauge glasses
Diffusers
Gasket sets

Maintenance & Repair:
Spray Adhesive, penetrating oil, belt dressing, insulated cement, QF-180 Refractory Coating, anti-seize lubricant, lubricating oil, furnace cement, LDS moldable refractory patch.
An Assortment of AGIS Boiler Room Gaskets and Other Supplies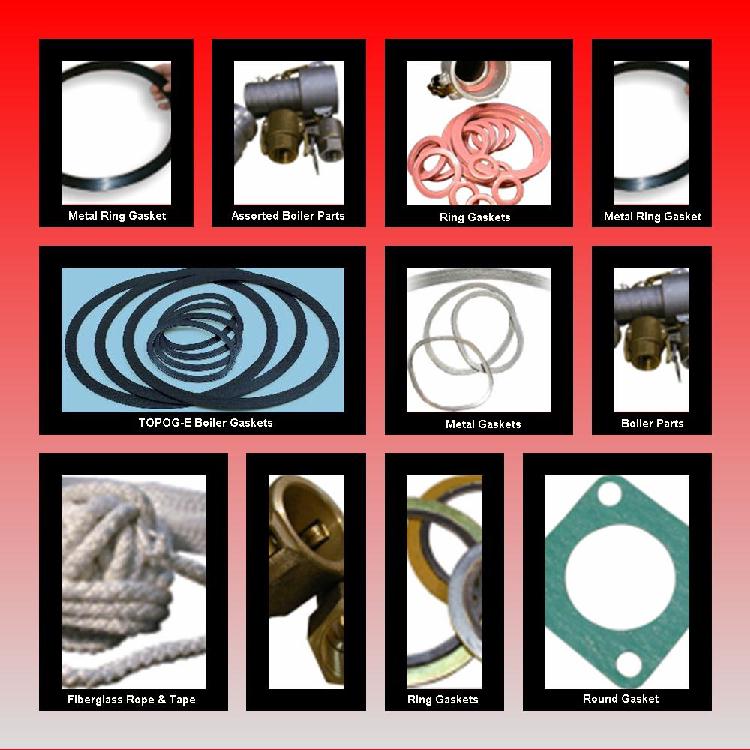 INDUSTRIES SERVED. AGIS boiler room supplies are used by virtually every industry throughout the world, including chemical processing, petroleum, waste/water treatment, steel & mining, food processing, boiler, steam, plant maintenance, power generation (including nuclear), metals/heat treating, transportation and marine, pulp & paper manufacturing, to name a few.

Recommended uses. General service, brine, cold water, cold oil, high-pressure rams and accumulators and high-speed shafts, gasoline, oil, asphalt, steam, air, alkalines, solvents, gases, ammonia, mild acids, phosphate esters, hot and cold water, solvents and air, alkalis, pump packing in mining service, dryers, blenders, cookers and mixers, sewage treatment, granular and abrasive service, slurry pumps, sludge pumps, dredge pumps, extruders and mud pumps

SIZES. Standard, custom & metric sizes available

Other AGIS products manufactured expressly for high-temperature service conditions include ceramic fiber products, boiler gaskets, tape, rope, cloth, sleeving, thermal blankets, sheet rubber; plant fiber sheet, fiber-cork sheet, Teflon® sheet and Teflon® joint sealant; flexible graphite sheet; welding curtains; kits; Inconel wire mesh cable.



. PRODUCT INDEX

About AGIS, LLC

Founded in 2001, the Ambler, PA firm is a manufacturer and a distributor of boiler accessories, gaskets, seals, O-rings, mechanical packing, tape, cloth and other high-temperature, heat-resistant sealing & industrial products for a wide variety of industrial and marine applications; distributor of Topog-E® boiler gaskets; die-cutting services.

AGIS sealants are used in virtually every industry throughout the world, including chemical processing, petroleum, waste/water treatment, steel & mining, food processing, boiler, steam, plant maintenance, power generation, metals/heat treating, transportation and marine, pulp & paper manufacturing, to name a few.

Among the recommended uses for AGIS sealants are: general service, brine, cold water, cold oil, high-pressure rams and accumulators and high-speed shafts, gasoline, oil, asphalt, steam, air, alkalines, solvents, gases, ammonia, mild acids, phosphate esters, hot and cold water, solvents and air, alkalis, pump packing in mining service, dryers, blenders, cookers and mixers, sewage treatment, granular and abrasive service, slurry pumps, sludge pumps, dredge pumps, extruders and mud pumps

Because service conditions vary widely, AGIS sealants are manufactured in many forms, such as gaskets, rope, tape and mechanical packing, and in a wide range of materials, including natural fiber, rubber, compressed fiber, fiberglass, ceramics fiber, graphite, Teflon, metal, Kevlar, carbon-Inconel and GFO, among others. Within our huge inventory are sealants capable of withstanding extremes of temperature, pressure or corrosive attack present in even the harshest service environment.

Click here for additional information

Email us at sales@agismfg.com for specialty sizes, pricing and delivery or contact an AGIS Customer Service representative at 215-646-8010